Make refurbished cartridges part of your responsible purhcasing policy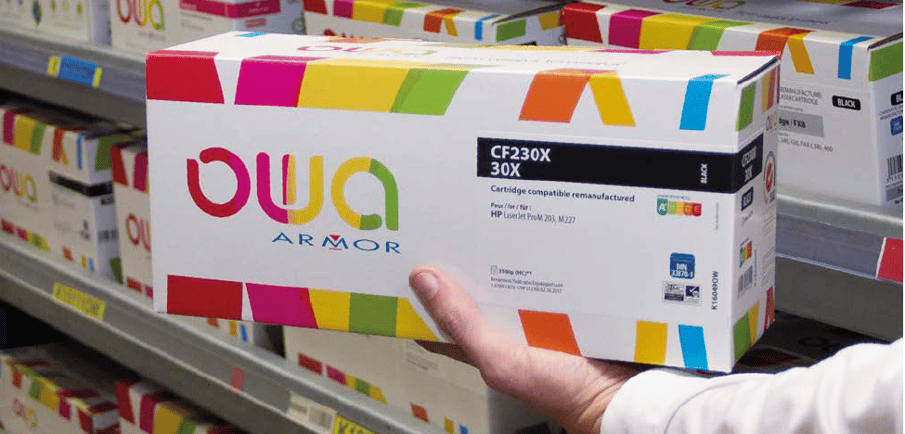 Products, mostly related to IT processing, that do not enter a processing or manufacturing process in your own company, are a source of immediate waste after use. This is mainly the case with print cartridges, 70% of which are thrown away without being reused. Remanufactured cartridges give you the opportunity to make a responsible purchase directly from reuse.
Give print cartridges a second life
Companies that have a regulatory obligation to purchase from the public sector can include a higher proportion of reused products in their purchases. Remanufactured cartridges are a good example of consumables that can be easily integrated into a responsible purchasing strategy. Remanufactured or reconditioned cartridges, which are compatible with one's printer, are produced from collected and sorted original empty cartridges. When they are reusable, they are disassembled, cleaned, some parts are replaced, and ink or toner powder is added to them to offer an almost new consumable.

Remanufactured or reconditioned cartridges, if they have obtained the patents guaranteeing their quality and production method, give a second life to print cartridges rather than making them a waste product. At the same time, these cartridges are, depending on the model, filled with more ink and toner powder than the original ones from the printer manufacturers, thus offering a longer life for the consumable.
Reduce your printing footprint with our OWA refurbished cartridges
ARMOR Print Solutions is independent of printer manufacturers and offers alternative and responsible printing solutions, ranging from printing consumables to managed printing services and the collection of used cartridges.
A genuine alternative to printer brands, print cartridges manufactured by ARMOR Print Solutions cover over 98% of European printer fleets. ARMOR has always invested in R&D, in its industrial tool and has set up partnerships with key players in the sector in order to guarantee, certify and prove the performance of its printing solutions.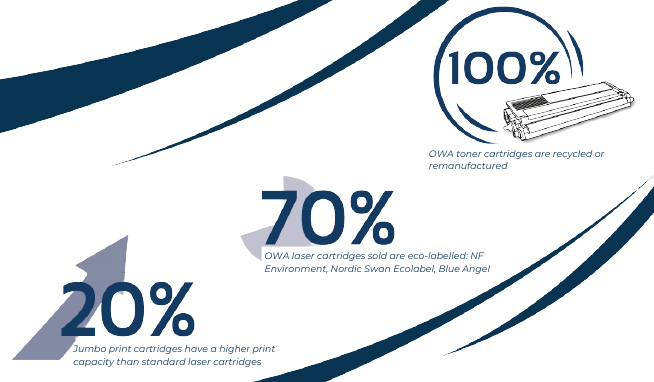 20% more autonomy compared to standard laser cartridges
70% of OWA laser cartridges sold are eco-labelled: NF environment, Nordic Swan Ecolabel, Blue Angel
100% of OWA laser cartridges are recycled or remanufactured


Our packaging is 0 single-use plastic!
As part of our efforts to reduce waste, we have eliminated single-use plastic from our packaging for our OWA Laser and Inkjet print cartridges.

To do this, we have removed the plastic airbag that was used to protect the remanufactured laser cartridge. We replaced it with a protective solution made of craft paper and cardboard. Removing the airbag offers us several advantages, both in terms of ecology and economy. Firstly, our OWA laser print cartridge packaging is 0 single-use plastic. Secondly, it allows us to reduce the size of the packaging, allowing us to make logistical savings in transport and thus emit less CO2.

The circular economy, a trademark made in OWA!

The circular economy is at the heart of our OWA brand. Since its creation, we have been working on our offers to provide our customers with ever more circularity. Specialising in remanufactured printing consumables, since February 2021 we have also been selling accessories and spare parts for printers to encourage individuals and professionals to favour repairing rather than buying new. With our new range of reconditioned printing equipment, our offer is increasingly circular. In this respect, the recent legislative initiatives against waste and in favour of reuse reinforce our position and clearly show that the circular economy and growth are no longer opposites