What are clones ?

Clones are counterfeit
In the printing and printer consumables sector, the term "Clones" refers to cartridges produced illegally without respecting manufacturers' patents and, for some, this even goes as far as counterfeiting by using the brand logo on their packaging.
This practice comes mainly from some manufacturers in South Asia. In the United States and Europe, the sale of clones is prohibited. Despite this, they are growing in popularity.
Why is it best to avoid buying or selling counterfeit ink cartridges?
Check out this diagram that explains why!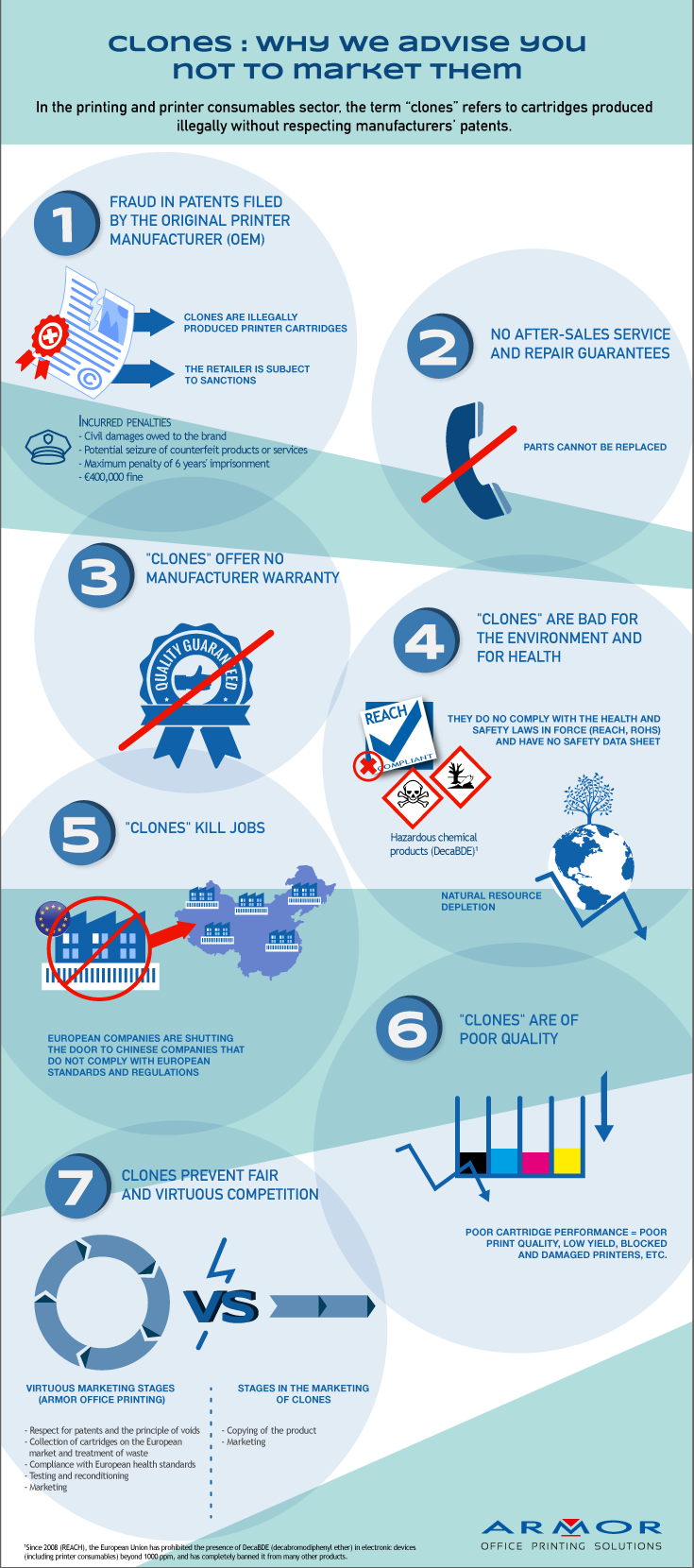 A few figures:
Counterfeit ink jet and toner cartridges (for laser printers) are on the rise. "In 2012 alone, $65 million of falsified inks were confiscated, mainly in emerging markets" (source: RTBF.de "Contrefaçon: gare aux cartouches d'encre clonées", 30 March 2013).
1. Material risk and cancellation of the manufacturer warranty
Clones are of poor quality. Indeed, to make savings, R&D investments, compliance with standards and certifications are not implemented in their manufacturing processes.
The first risk is material. At worst, these cartridges may damage your printer, and at best they may not operate as guaranteed by the patents. Furthermore, in the event of problems, the manufacturer's warranty in the case of clones (unlike with compatible cartridges) will not work.
According to a survey by Forester Consulting (June 2012), 70% of users of counterfeit cartridges report a decline in print quality (1).
2. Clones harm the environment and health
Because of their illegal nature, clones cannot be recycled and are immediately incinerated once they have been used. "Clones" are often imported without having passed the health and safety controls established in Europe, such as the REACH Directive ("REACH is an EU regulation adopted to better protect human health and the environment from risks related to chemical substances […] - Source: ECHA - Understanding REACH) or RoHS.
Similarly, it is impossible for counterfeits to provide Safety Data Sheets which, together with regulatory labelling, are a means of informing the consumer about the dangers associated with the chemicals present in the product and also of the means of protection and preventive measures to be adopted.
These clones may contain a hazardous level of chemicals (DecBDE) (1)
(1) Since 2008 with the REACH Directive, the European Union has banned the presence of DecaBDE (decabromodiphenyl ether) in electronic devices (including printer consumables) above 1000 ppm, and has completely banned it from many other products.
3. Clones prevent fair competition
Because the price of clones is attractive, both virtuous product manufacturers and remanufactured compatible manufacturers are victims of unfair competition.
As a player on the European market, manufacturers must, for their part, bear the costs and constraints related to European regulations and empty cartridges (respect for patents, fair competition with the OEMs and respect for their brands). The WEEE imposes the principle of collecting empty cartridges for appropriate processing of end-of-life cartridges. SDS and REACH standards ensure health and safety for users and employees using their products. Because of their compliance with regulations, manufacturer cartridges are placed on the market later than clones that do not go through any of these steps.
Some players commit themselves even more by respecting standards and certifications for respect for the environment, and add guarantees to products outside of the manufacturer's warranty.
Compatible suppliers have been organised and grouped within an ETIRA organisation to combat bad practices and promote the compatible sector.
To know more about our products