Where can you recycle your company's empty printer cartridges?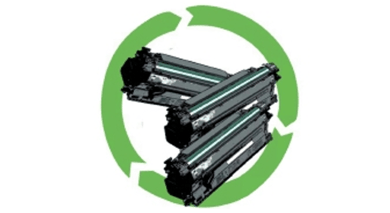 So, you are working in an environmentally conscious company, and you have decided to no longer throw away your used ink cartridges and instead make sure they are recycled. The question is where should you deposit your empty cartridges?
Setting up a collection point in your company will allow you to:
Collect your empty cartridges and get rid of waste

Foster a

circular economy

via recycling and reuse

Help protect the environment
If you have decided to collect ink cartridges in your company, there are numerous organisations and associations out there offering cartridge collection services, so you want to avoid any mistakes and make sure to choose a trustworthy service provider.
We are here to help you with this decision. In this article, you will find the important factors to consider when choosing your collection service partner!
A partnership with "éco-organismes" or the French agency for ecological transition ADEME
In France, an "éco-organisme" is an eco-friendly non-profit waste management company appointed by the state to carry out a public utility role in which it manages end-of-life electrical and electronic equipment (in accordance with WEEE regulations).
A reputable service provider will often have partnerships with "éco-organismes".
Another way to verify that a service provider is trustworthy is to check whether it is registered with the French agency for ecological transition ADEME. ADEME is a public institution overseen by the Ministry for the Ecological Transition and the Ministry of Higher Education, Research and Innovation.
The system should be simple to implement
Implementing a collection system should be simple, even over the long term. The collection system should save you time while also enabling you to do the right thing. Find out more about how to use these services and choose the one you think would be the easiest to set up.
Some providers offer services such as delivering and retrieving collection boxes free of charge. You don't even have to go anywhere!
You can also save time by using an Extranet portal with a personal account that allows you to monitor your collection report and submit requests to have collection boxes sent or picked up.
Thorough monitoring of the collection process
You should consider whether you will have a dedicated contact within the service. Choose a service provider that offers proper support and that will be there to answer any of your questions.
It is important to be able to obtain certificates that attest to the proper processing of your cartridges. These provide proof of your provider's commitment to recycling your printer cartridges.
Some service providers will even provide you with a material balance for your CSR report (i.e. a document to certify all the data relating to collection which thus accurately describes the fate of the used cartridges collected from your company).
Environmental awareness
Choose a service provider that is involved in green initiatives and that is strongly committed to promoting best practices for environmental sustainability. If the provider operates using a circular economy and reuses empty cartridges to produce remanufactured cartridges, that is even better!
The OWA remanufactured cartridge brand offers its own collection service
Discover the OWA collection service :