What happens to our printer cartridges?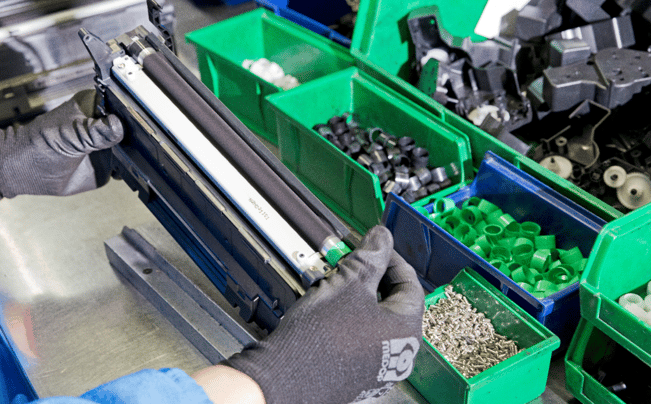 Treated as regular garbage, Print cartridges can damage the environment. Recycling this product has become mandatory following the WEEE (Waste Electrical and Electronic Equipment) regulation.
Indeed, cartridges contain materials that can be toxic for the environment and must be processed appropriately. Recycling your cartridges is therefore an eco-citizen gesture!
It's nice to recycle! But what happens to the cartridges once they are collected?
70% of the cartridges collected by ARMOR are remanufactured and have a second life!
Empty original cartridges that are recycled after use are collected, cleaned, refilled with ink or powder, repaired and tested in order to be returned to the market. The term remanufactured is used because in some cases, inkjet or drum for the laser are replaced. Unlike the reconditioning market (i.e. the second hand, e.g. for telephony or textiles) where the product is simply cleaned for be put back into use.
But what actually happens to the other 30% of cartridges collected?

We collect used laser cartridges in order to sort them from reusable and non-reusable printer cartridges. Then from non-reusable are taken apart to be transformed in new objects such as office accessories, thanks to secondary raw materials extract from cartridges.
We work in collaboration with CEP, the office supplies distributor to provide a complete range of office supplies created from cartridges !
This partnership gave rise to the Ellypse OWA range by CEP.
For this European leader, sustainable development is a priority. We share the same values and the same projects for a sustainable society.

CEP offers office accessories such as letter trays, mail organisers, file holders, magazine racks, etc.
We also reuse printer cartridge materials as goodies for our customers and partners. This means that we support our customers in a responsible circular economy approach in all aspects. We enable them to recycle their cartridges, and provide the proof through recycled and useful objects in everyday life, such as: Rulers, Pencils and pencil holders, etc.
In summary, It is a complete and unique process for material recovery.

For your companies, this process results in the output of a material report. This is a useful tool to help businesses enhance their commitment to CSR.
Individuals or businesses, we can all get involved in the process of collecting printer cartridges.
Choose the OWA solution for your printer cartridges and access our online collection service. Let's build your environmentally responsible approach together!
How does the collection of printer cartridges works for companies and induvidual people ?
It's an habit that's already established in companies
Companies have been using collection solutions for several years. This is on top of their CSR policies, which also address environmental issues. Waste reduction and recycling programmes are therefore in place.
An habit yet to be adopted by individuals
There are several reasons that inkjet cartridges are less recycled than laser ones: individuals do not look for collection points, they do not know that cartridges can be recycled and that this action can have a real impact on the environment.
Indeed, it is with small actions that everyone can reduce the impact on the environment. Consider recycling your printer cartridges!
At Armor Office Printing…
Armor is a supplier of printing products, so we place collection at the centre of our production process. Without empty cartridges, we cannot supply our customers with printer cartridges. We have opted for a circular economy approach that complies with regulations and a European framework for intervention. This service is available in France and internationally. We offer a large number of Armor-approved collection points near you to drop off your empty cartridges.