"OWA Line", a new building block for 100% circular printing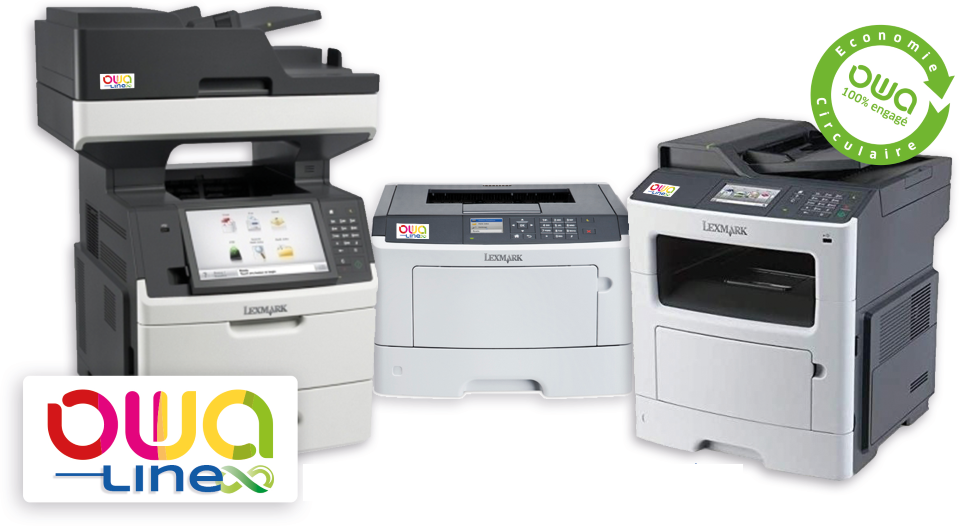 In addition to its OWA range of remanufactured printing services and consumable printer goods, ARMOR Print Solutions is expanding its circular economy printing solutions, introducing "OWA Line", a new range of reconditioned printing equipment.
"OWA Line": reliable, high-quality reconditioned printing equipment
Drawing on its expertise in recycling, and adding to its OWA range of remanufactured printing services and consumable printer goods, ARMOR Print Solutions now provides reconditioned multifunction printers, offering both reliability and quality. The reconditioning process is particularly rigorous and involves a strict overhaul of the equipment so as to end up with a solution that offers optimal performance.
"After disassembling and cleaning the equipment, the wear parts of the equipment are changed if they have reached over 70% of their wear rate. All parts are then reassembled, and a comprehensive update of the firmware and counters is completed. This step is followed by functional mechanical testing (printing, scanning, copying, etc.). Finally, the equipment is carefully packaged for shipping. Our aim with this new range is to offer our customers a printing solution as efficient as any new equipment ", explained Céline Berson, EMEA Category Product Manager for ARMOR Print Solutions.
Controlled printing budgets thanks to reconditioned products
With its new "OWA Line" range, remanufactured printing consumables expert ARMOR Print Solutions is strengthening its presence on the market by addressing the needs of companies and users seeking to achieve a controlled budget without compromising on quality. Buying a reconditioned printing solution allows clients to control and effectively cut their printing budget. The total cost of using reconditioned hardware can contribute to reducing printing budgets by up to 60% compared to opting for an entirely new solution.
The circular economy at the heart of the strategic vision
This range is a perfect illustration of OWA's commitment to the motto "Nothing is lost, everything is transformed" in that it is centred around reconditioning, a specificity that reasserts the pioneering role and strategic vision ARMOR Print Solutions has endorsed with regard to supporting the circular economy model. The range reflects the business model of ARMOR as a whole — the group ARMOR Print Solutions belongs to — drawing on societal innovation that combines industrial and economic performance and respect for human beings and the environment.
"The circular economy is at the heart of OWA as a brand.Since we created the brand, we have been improving our offers to present our customers with even more circularity.Given our specialisation in remanufactured printing consumables, we have also been marketing printer accessories and spare parts since February, to encourage private individuals and professionals to favour repairs over new purchases. This new range of reconditioned printing equipment further demonstrates the commitment underpinned by our products to increasing circularity. In that regard, recent anti-waste and reusability legislative proposals have reasserted our positioning and indicate very clearly that circular economy models and growth are no longer incompatible", added Gerwald van der Gijp, Managing Director of ARMOR Print Solutions.
To find out more, contact our teams :