Why are Jumbo cartridges considered to be more cost-effective and environmentally friendly for businesses?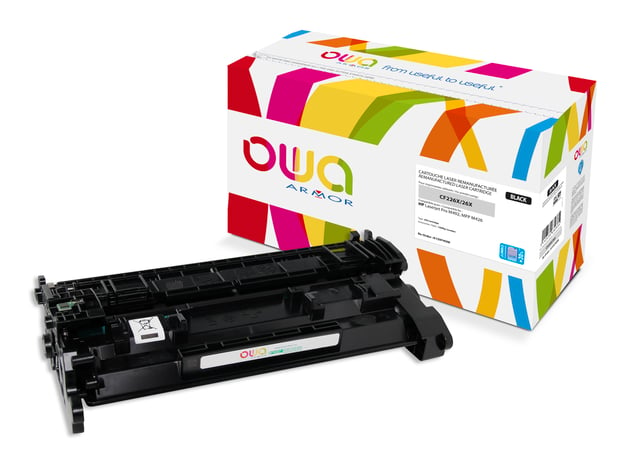 What is a Jumbo cartridge? It is a remanufactured toner cartridge designed to provide a higher yield than standard toner cartridges. For a cartridge to be labelled as "Jumbo" (or "XXL", "Extended", etc.), its yield generally needs to be 20% higher than usual.Jumbo cartridges offer a real solution for companies looking to reduce their printing costs and minimise their waste to be more environmentally friendly.
How are Jumbo cartridges more cost effective?
Jumbo cartridges can print more pages. The cost per page is thus reduced by 15 to 50% compared to a standard cartridge. By investing in research and development, the remanufacturer determines the yield capacity and thus how much money is saved.
Choosing to use Jumbo cartridges will result in a much lower cost, as shown in the two graphs below.

Unfortunately, it is more difficult to find Jumbo cartridges on the market. This is because OEMs (original equipment manufacturers) do not manufacture Jumbo cartridges. However, some companies such as Armor Office Printing offer companies the option to custom order Jumbo cartridges for any product code/brand.
How are Jumbo cartridges more environmentally friendly?
Jumbo cartridges have less negative impact on the environment. Since you can print more using fewer cartridges (one Jumbo cartridge = two standard cartridges), you produce less waste! Using fewer cartridges also means that less stock is needed and shipping is reduced. Therefore, you are reducing your CO2 emissions and using fewer non-renewable resources.
In addition, these are remanufactured (recycled) cartridges, so they are being reused. Using the Jumbo line, you reduce your environmental impact by twofold.
Comparison of CO2 and Sb eq emissions for a standard HP 1010 cartridge and an HP 1010 Jumbo cartridge

Is the quality of the cartridge affected?
The cartridge's yield is improved without negatively affecting the quality of its parts. However, you need to choose a trusted manufacturer with patents and the proper certifications in order to be sure of the quality of the cartridge.
When you choose Jumbo cartridges, you are choosing a high-quality cartridge with a better yield at a lower cost, all while protecting the environment. Would you like to know more? Armor offers a wide range of products and can even produce custom-made products.
Do not hesitate to :
You can also check out our article here: Three ways to reduce your printing costs to a minimum