ARMOR Office Printing continues to innovate in the responsible collection of print cartridges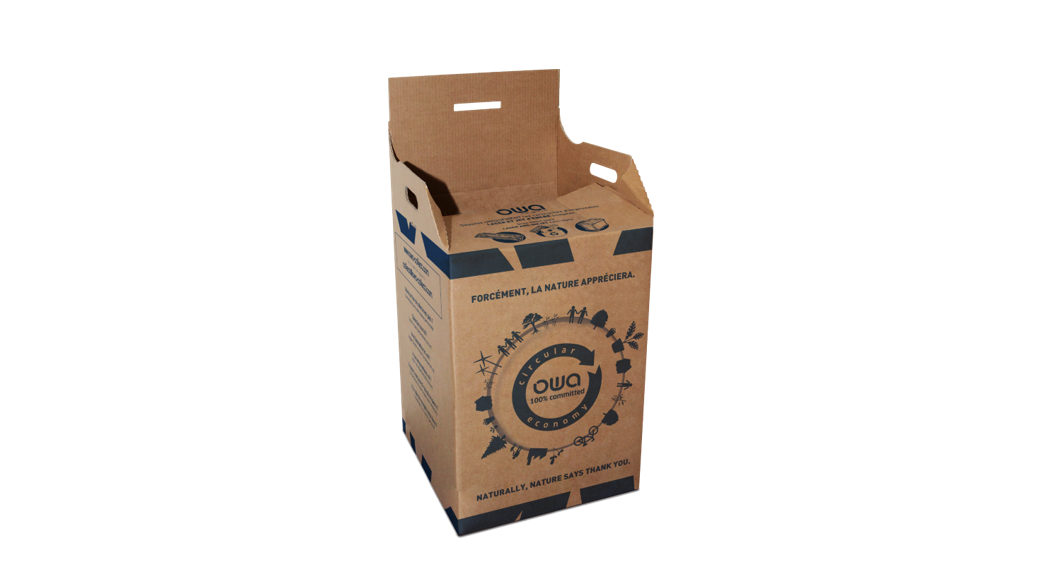 As part of the OWA-collect program, ARMOR Office Printing announces the deployment of its new cardboard box for the collection of used cartridges. 15,700 collection accounts can already benefit from this service in Europe. The OWA used cartridge collection offer allows companies to remotely manage the collection, reuse and reprocessing of their printer cartridges. Once collected by ARMOR, the cartridges are remanufactred and reinserted on the market, thus offering a more environmentally friendly products for responsible consumption.
An innovative collection box
The new OWA collection box now features several innovations to ensure its durability:
- A semi-automated base that makes it more airtight to prevent toner powder or ink leaks.
- A kraft finish and increased resistance to carry 15 to 20 laser cartridges as well as inkjet cartridges.
For 2019, this new version will result in about 100,000 fewer plastic bags.
This new cardboard box guarantees both optimum use by companies and respect for the environment during transport to the processing site.
OWA collection: a responsible service for companies
As a supplier of remanufactured printing consumables, ARMOR places collection at the heart of its production process. Without empty cartridges, it is impossible to provide new printing consumables. Collection is therefore the spearhead of ARMOR's actions. "This collection of laser and inkjet cartridges is provided by OWA's corporate customers throughout Europe. The OWA-collect.com portal allows user companies to create their collection account, order collection boxes, manage collection requests and access communication tools (waste tracking certificate, material balance sheet, general collection conditions, local authorities authorizations etc.). Collections are carried out within 24 to 72 hours," explains Xavier Dautreme, head of the collection service for ARMOR Office Printing.
The OWA collection is currently deployed in 11 countries across Europe. France and Belgium are the two main user countries of this service.
OWA collection, the cornerstone of ARMOR's circular economy
The OWA collection is part of the ARMOR Group's circular economy project. The Nantes-based industrial group is involved in many responsible economy projects, serving a social project that is an integral part of its DNA: responsible consumption.