6 eco-friendly habits for the office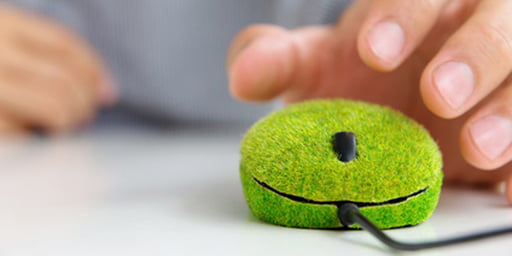 Our office activities have a significant environmental footprint, partly due to our consumption of energy and raw materials through central heating, air-conditioning, computers and electricity and partly due to our production of waste (such as paper, plastic rubbish, cardboard waste and office supplies).
Let's start with some key data...
Several elements generate waste and consumption at the office:(Source: ADEME [French Agency for Ecological Transition])
Companies are responsible for 50% of France's overall energy consumption for heating.

120 to 140 kg of waste, ¾ of which is paper, is produced annually per employee.

21% of a company's electricity consumption is devoted to computer equipment.

In France, 13 million people (i.e. 46% of the working population) currently work in offices.
Have you ever wondered how you can reduce your workplace's environmental footprint?
Here are some effective measures and good resolutions to implement in your company:
Prioritise repairing your electronic devices
If you don't have an IT department in your company that replaces equipment, consider repairing your computers or other equipment rather than buying new products. You can also prioritise the purchase of refurbished products. These products are either as good as new or have simple manufacturing defects (such as scratches or marks) that do not prevent them from functioning correctly.
Sort your waste
This eco-friendly initiative is widely known but sadly often forgotten at the office, even though it has become a corporate requirement. In fact, sorting waste has been an obligation for all French companies since 1 July 2016. The legislative decree of 10 March 2016 (no. 2016-288) requires waste holders and producers to sort their paper, metal, plastic, glass and wood waste, regardless of the amount they produce. You should consider sorting and recycling your waste (paper, water bottles, packaging, etc.) at the office just like you do at home! Did you also know that waste sorting supports job creation?
Request or install waste sorting bins within and outside your premises.
Choose remanufactured printer consumables
When not recycled, printer cartridges can create a significant amount of waste once used, particularly as regards their containers and packaging. Choose your printer cartridges carefully and select providers that either repurpose or recycle their cartridges and use environmentally friendly packaging to reduce waste.
Prioritise the use of remanufactured printer supplies, such as OWA cartridges. This will help you to both reduce your printing budget and promote your eco-friendly values. We also recommend that you drop off your empty printer cartridges or have them collected by a company so that they can be reused. In order to do this, you could implement an empty cartridge collection system within your company and encourage your employees to take part in sustainable development initiatives.
Reuse waste paper
If you have piles of half-printed pieces of paper on your desk, use them as scrap paper or leave them in a box by the entrance for your team to use.
Sorting waste paper has been a requirement in France since 1 July 2016, as mentioned above.
Improve IT equipment

management
Printer management is considered to be the most significant environmental issue in offices and is estimated to have a carbon footprint of around 360 kg of CO2 per year per employee.
With the help of an external supplier, you can maintain your company's printers via a managed printing solution , such as our DYALOG MANAGE service. Software for managing your print volume more effectively is also available.
Reduce the environmental impact of your emails
According to a study from the ADEME agency, the use of 1 MB of data by 1 person is equivalent to using a 60 W bulb for 25 minutes.
Each employee receives an average of 58 emails and sends around 33 per day, which represents around 91 MB of emails alone every day!
Cleaning your inbox is one way to alleviate this issue. Sort through your emails on a regular basis. An email's environmental impact becomes increasingly negative the longer it is stored.
We also recommend that you send links instead of attachments in order to reduce the size of your emails.
You now have everything you need to implement eco-friendly initiatives in your company. At Armor Print Solutions, we can help you with this transition by providing eco-friendly printer cartridges and a free collection service!
Find out more about our OWA range of remanufactured cartridges and our empty cartridge collection service.